Staff
Our dedicated staff members are here to provide support, compassion, and information to help you through your journey of grief and the celebration of your loved one's life.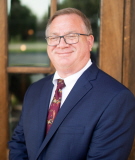 Chris Highsmith
Owner
Chris Highsmith has been in the funeral busines for over 36 years. A 1979 graduate of Welch High School, attended NEO A & M college and the Dallas institute of Funeral Service. Rick Stephens and he were classmates in the 1986-87 Dallas Institute Class. Raised on a farm, he enjoyed playing sports, rodeoing and hunting. Chris began working in the funeral industry as a maintenance man, and quickly realized he wanted to pursue a career in the profession. He has a genuine love of serving families in need and the passion grows stronger to serve with each day. Chris is excited to be of service to the Pryor Community and will bring the highest level of service and professionalism. His wife Vicki works at KAMO POWER in Vinita as a payroll accountant and also keeps up with the business accounting.

His children are Cameron Dennis in Ohio, along with a granddaughter Walela; Haley Chenoweth and husband Casey in Miami, and a son Hunter Highsmith of Broken Arrow; and favorite pet "Zoey" a yellow lab. Anxious to meet the people of Pryor, we invite all to come by and visit any time.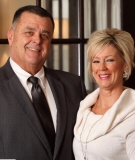 Rick & Gloria Stephens
Founders
Rick and Gloria established Stephens Memorial Chapel in 1996. They have 3 daughters, Amy, Stacy and Abby and four grandchildren, Heaven, Colby, Cameron and Addison. Rick has an extensive career in law enforcement, is a 1975 graduate of Pryor High School, and a 1987 graduate of Dallas Institute of Funeral Service. Gloria is an avid gardener and decorator. She also enjoys many outdoor activities.